My Fair Lady: An Inside View Of The Musical
Hang on for a minute...we're trying to find some more stories you might like.
Recently, NMHS put on the play "My Fair Lady." The production included more than 30 people working on and in it. If you saw the play and thought it was awesome, thank you! Everyone worked hard to remember choreography, lines, and blocking (where you stand on a stage at a certain point in the musical). But, what happened during and after the show? First lets talk about what the show is about and it's origin.
My Fair Lady is a musical based off of a story called Pygmalion by George Bernard Shaw and it takes place in 1912. It is basically about a girl named Eliza Doolittle who lives on the streets selling flowers to survive. She is a cockney and has a strong accent from Lisson Grove. Her father, Alfie Doolittle, is a alcoholic dust man who also lives on the streets and has two goons: Harry and Jaime. Alfie is kind of a scumbag, he believes in "middle class morality" and extorts money from his daughter, Eliza. One day, a man comes to the streets to listen to people's accents and take notes about them. This is Professor Henry Higgins, a man VERY well versed in phonetics. He can track a person's accent to the very street they live or lived on.
Eliza, Higgins, and townspeople, courtesy of  Todd Bloomquist(My Fair Lady photographer)
While asking a man(Pickering) to buy flowers from her, Eliza is told by a bystander that there's a man taking down every word she's saying. Higgins is revealed from behind a pole and Eliza starts arguing with him about what he's doing. Higgins starts telling people where they are from, just by their accents. Everyone became confused by this, suggesting he's a tech, a random gentleman, a stalker, insane, physic, and anything else they can think of to know what he's doing. In the end, Higgins says he can make Eliza sound, act like, and be a lady so, he proceeds to leave with Pickering after finding out who he is (Higgins and Pickering love each other's work).
Eliza and Pickering, courtesy of Todd Bloomquist
Eliza and townspeople, courtesy of Todd Bloomquist.
Alfie, townspeople, Jaime, and Harry. Courtesy of Todd Bloomquist 
Eliza ends up approaching Higgins later on for the "offer" of making her a lady. It ends up being that Pickering and Higgins make a bet: Higgins has to make Eliza so convincingly a lady that even the king/queen would think she was. So, Pickering payed for all the supplies and schooling by Higgins and they commenced their mission. Throughout the story, there are songs, dance numbers, comedic scenes everywhere, and a sad to heartwarming ending. If you didn't see the show, I highly recommend watching the movie version starring Audrey Hepburn and Rex Harrison.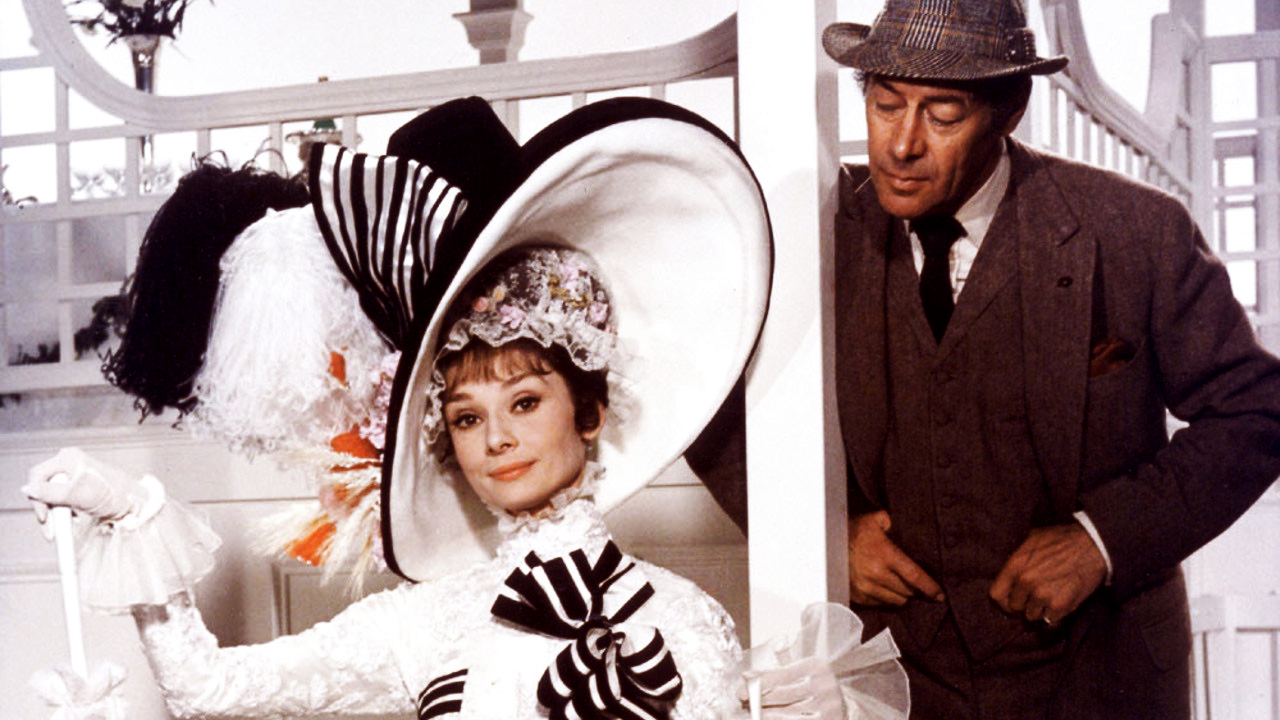 My Fair Lady starring Audrey Hepburn and Rex Harrison, courtesy of wfmt.com
I was in My Fair Lady as Another Bystander and various background dancing cockneys and proper people. It was extremely fun working on it, and I wish I was able to see everyone's performances from the audience's perspective, but even seeing the work we all did together from on the stage amazed me. I was astounded at the work people put into remembering their lines, adding emotion, and body language, especially the leads and the understudy for Kate Bloomquist (who plays Eliza).  It was the first musical I've ever been in, and it was the same situation for most of the other players as well. We all went a long way, staying long nights and rehearsing.
Servants chorus, Higgins, and Pickering, courtesy of Todd Bloomquist
For many, it was their first musical or venture in North Medford High's theatre, but for others, it was their last. We had seniors in Tech crew, Run crew, the Pit (where the live music is played), and on stage. But, sadly it is also the last musical Ms. Bigelow is working on. She decided that this was going to be the last year of her life working at North's theatre. We are sad to see her go. I met her at the beginning of this school year, and all I can say is that I am happy I was at least her student for one year. She is a lovely, smart, and fantastic teacher, and we are truly sad to see her go. But, I'm sure we can accept that she probably doesn't want to do this for forever.
Pickering, Eliza, and Higgins, courtesy of Todd Bloomquist
On the last night of the show, we all honored the seniors and people working on the show. Especially, Payne!  Smith (choreographer), the Costumers, Geoff Brabham (Leaded stage design and build), Ms. Taylor (Choir teacher; helped people musically but, also had a lot of involvement in the other areas), Mr. Kessler (Conductor or the Pit), and last but not least, Ms. Bigelow.
Higgins, Alfie, Pickering, and Mrs. Pierce, Courtesy of Todd Bloomquist
We will miss everyone leaving, and it sucks to see the seniors and Ms. Bigelow leave.  But we had a ton of fun, and it was great.  We can all remember the time we put in and the relationships we made during this production. If you saw it, hope you liked it and hope you had fun watching. We may have had some bumps in the road here and there, but doesn't every theatre production have its problems?  Thank you for reading and watching the show, also, thank you to everyone who participated in the making of this musical.
Eliza, Chorus, and Townspeople, courtesy of Todd Bloomquist
Higgins and Eliza, courtesy of Todd Bloomquist
Higgins and Eliza, courtesy of Todd Bloomquist